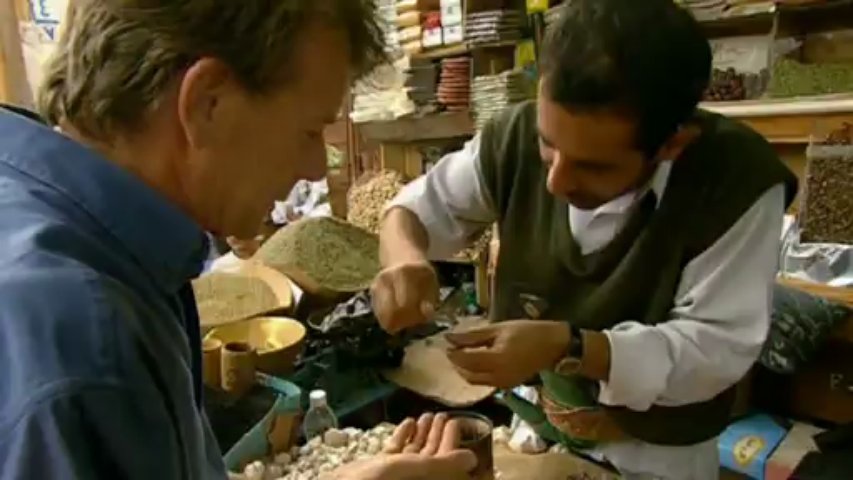 In Search of Myths and Heroes
Watch the four myths that inspired Michael Wood to embark on his journey: The Queen of Sheba, the earthly paradise of Shangri-La, King Arthur and Jason and the Argonauts. Myths are more than mere stories and they serve a much more profound purpose in ancient and modern cultures. Myths are sacred tales that explain the world and man's experience. They instruct, inspire, console, and warn. They embody the wisdom of a culture and serve to pass that wisdom to the next generation.
The Queen of Sheba. The story of the Queen of Sheba appears in religious texts sacred to Jews, Christians, and Muslims. Described in the Bible as simply a Queen of the East, modern scholars believe she came from the Kingdom of Axum in Ethiopia, the Kingdom of Saba in Yemen, or both. Their main clue is that she brought bales of incense with her as a gift; frankincense only grows in these two areas. Both countries claim her as theirs. Given that they are separated by only 25 kilometers of water, both could be right.
Shangri-La. The mythical land of Shangri-La is the novelist James Hilton's fictional account of the legendary Tibetan paradise Shambala. In Hilton's 1933 novel, Lost Horizon, he changes the name of the paradise to Shangri-La. This lost Tibetan paradise is a valley cut off from the world. The wisdom of the human race is being conserved there against the threat of imminent catastrophe. Hilton's novel was turned into a hit Hollywood movie and the name Shangri-La came to mean a lost paradise.
King Arthur. Arthur, a Celtic king born of deceit and adultery, grew to become one of the most famous rulers of Britain. He was a warrior, a knight and a king who killed giants, witches and monsters and led a band of heroes on many daring adventures. He is known for his Knights of the Round Table and for uniting the peoples of his land. Even though his end was tragic, he is still known and celebrated all over the world today. His story is painted on the halls of the British Parliament.
Jason and The Golden Fleece. The Greek myth of Jason and the Golden Fleece is one of the oldest myths of a hero's quest. It is a classic story of betrayal and vengeance and like many Greek myths has a tragic ending. It begins when Jason's Uncle Pelias kills Jason's father, the Greek King of Iolkos, and takes his throne. Jason's mother brings him to Cheiron, a centaur (half man, half horse) who hides him away and raises him on the Mountain of Pelion.